Theo Peters Numismatics & Philately

​Theo Peters Numismatics & Philately sells coins, old coins, coincards, banknotes and stamps. We organize coin auctions and offer you the opportunity to sell your collection to us. Order directly online or visit our store in Amsterdam.
__________________________________________________________________________________________________________________


Coin dealer in Amsterdam
You are welcome in our store at Westerdoksdijk 605 in Amsterdam, from Monday to Saturday from 10:00 to 17:00. The new store is located on the edge of the center, only 5 minutes by car from the ring and only an 8-minute walk from Amsterdam Central station. Parking is well arranged, you can literally park in front of the door or if you want to visit us a little longer, you can book a parking space on license plate from 10, - per day at the IJdock parking garage diagonally across the street from our building, parkereninijdock.nl.
In the store you can find our entire product range you would expect in a coin dealer; stamps, coins, euro coins, paper money, supplies and catalogs of all major brands.
​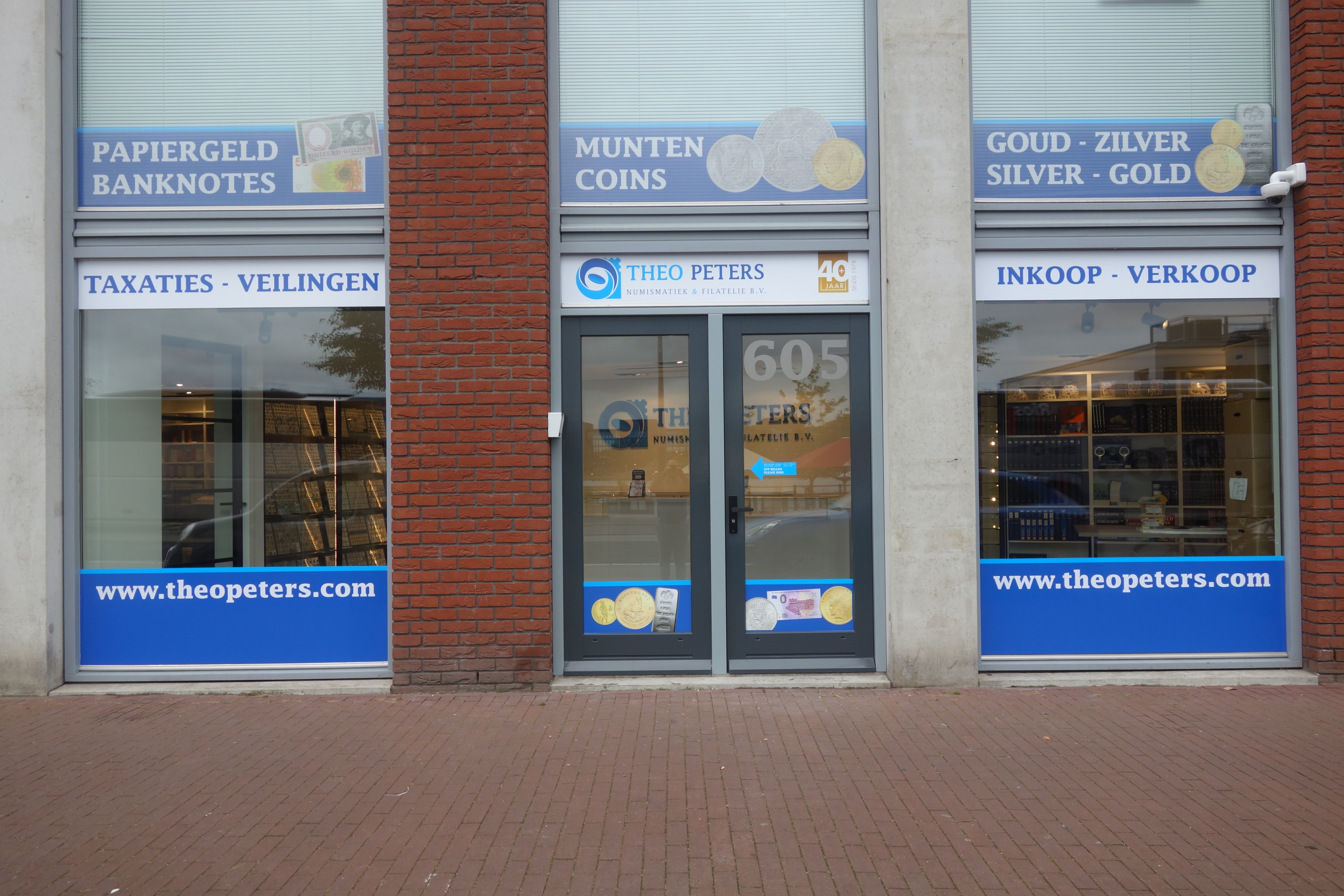 ___________________________________________________________________________________________________________________
In addition to various coins from different countries, we also have an extensive stock of coins from The Dutch Provinces
as well as coins of the Kingdom of the Netherlands, or from Philip II to King Willem-Alexander. In addition, we provide new issues
of the Royal Dutch Mint, such as coin sets, gold and silver ducats and commemorative coins. Also for promotions, anniversaries and
gifts we can provide a suitable coin.
POSTAGE STAMPS
Since the start of Theo Peters Numismatics & Philately B.V. in 1978, stamps have occupied an important place!
In addition to packages for beginners, interesting collections for advanced users and a wide range of accessories,
We at Theo Peters Numismatics & Philately B.V. have an impressive stock of postage stamps from the Netherlands and
the Overseas regions. Pretty much every stamp is in stock or can be delivered quickly!
GOLD & SILVER
The precious metals gold and silver are an important part of our coin trade.
Every day we sell silver and gold coins, such as gold tenner, sovereigns, krugerrands and maple leafs against
daily rates. If you are interested in buying or selling precious metal for investment, also in bar form, please do not hesitate to contact us.
AUCTIONS
In addition to the retail trade, Theo Peters Numismatics & Philately B.V., with its subsidiary "AA" Coin Auction, regularly organizes international coin auctions.
Throughout the year, estates, duplicates and other collections are entrusted to our good care. These will be all
expertly lotted out, appraised and cataloged by our experts and then put under the hammer.
Our auction catalogs are shipped to thousands of collectors worldwide. Via Live-Bid you can follow our auctions and bid
anywhere in the world. This makes it possible to achieve absolute top prices. If you are (ever) considering selling your coin collection,
then we are happy to assist you with advice!
PAPER MONEY
Paper money in the Netherlands has become a popular collecting area in recent years. The notes are a beautiful reflection of the era. Certainly, due to the arrival of the Euro and the end of the guilder, there is an increasing demand for paper money. Theo Peters Numismatics & Philately B.V. is happy to assist you for your purchases in this area.
VOC TREASURES & LUXURY COIN SETS
Theo Peters Numismatics & Philately B.V. managed to seize the coin supply from a V.O.C. ship.
Our excellent contacts with various diving expeditions and our international network of relations have resulted in the purchase
of three unique coin treasures. In 1995 we bought 900 whole and 350 half Leeuwendaalders, which in collaboration with the Dutch Mint
are issued in luxury coin sets: De Campen I and II. In 1997 we managed to acquire a treasure again, consisting of 500 Silver Riders
and 100 Golden Ducats from V.O.C.-ship 'Het Vliegend Hart'. These coins are packaged in luxury coin sets for collectors:
Het Vliegend Hart & Het Vliegend Hart Gold. In 1999 we managed to acquire silver Stuivers and Golden Ducats from 'De Akerendam',
which are also packaged in beautiful coin sets.
Our most recent issue is the beautiful historical coin set Thorbecke 2017.​